Recording Sessions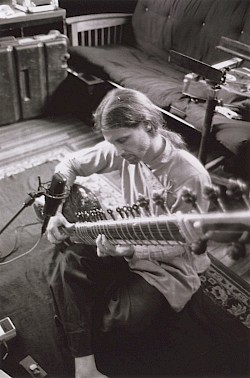 I live in Toronto but am able, through the studios I work with and through the internet, to record sitar and Hindi and Sanskrit vocals for projects anywhere in the world. I tune my sitar to a number of keys, and I believe that the instrument can be made to work in almost any key, though the best place for it is "D." Listen to some of the sample tracks of my work with vocal and sitar in the studio to give you an idea of the diverse range of musical styles that Indian classical music can complement and enhance.
Vocal session on "Lost" by Jeevo, from the album "Invisible"
Jeevo
Invisible
Sitar session on "Apane Logo" by Aradhna, from the album "Namaste Sate"
Aradhna
Namaste Sate
Vocal session on "Remain in Me" by Mike Janzen from the album, "Little Trinity Worship Sessions"
Mike Janzen
Little Trinity Worship Sessions